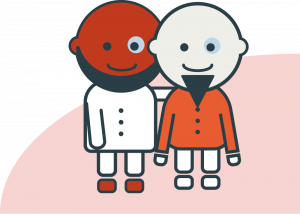 Back in 1987, Birchwood Highland was established as a charity that supports people who are experiencing long-term, impactful mental ill-health on their personal journey to recovery and a brighter future. But our name didn't quite reflect our mission, so in 2021, we rebranded as Centred and our new brand showcases the wholly person-centred way we work in the care and support we offer.
Over the years, it's been rewarding to see the public understanding of mental health improving and throughout this progress, we've been at the cutting-edge of mental health support. We're constantly evolving and innovating our services, particularly in the rural areas where we serve. The service we offer has also grown in this time and we're proud that we now also deliver a wide range of personalised care and support services. 
Our mission is clear. We're here to help people living with mental ill-health ditch any stigma associated with it and feel like an important part of their community. We help them to live full and independent lives no matter what their background or the level of support they need. 
Our approach is always person-centred and focused on recovery, so people working with us are able to help themselves improve their future opportunities and learn to shine again. We do this by helping people rebuild their self-confidence, health and wellbeing by educating them on better lifestyle choices and encouraging positive change. 
At the very heart of who we are is our amazing network of Centred staff. We believe that investment in our employees is key to providing top-notch support. We value each and every staff member and are proud that many of them have been with us for a long time, making a positive difference to the thousands of lives through our person-centred approach to recovery.
We couldn't keep providing quality services at the forefront of mental health without listening to the people around us, so we're constantly asking for, and acting on feedback from our staff and the people who use our services. We also empower our people to get involved in the planning and development of our activities wherever we can.
We're proud to have dedicated community support teams working in the Inverness, Easter Ross, Caithness and Lochaber areas and our pioneering residential mental health recovery centre was the first in Scotland and is currently one of just three such centres here.